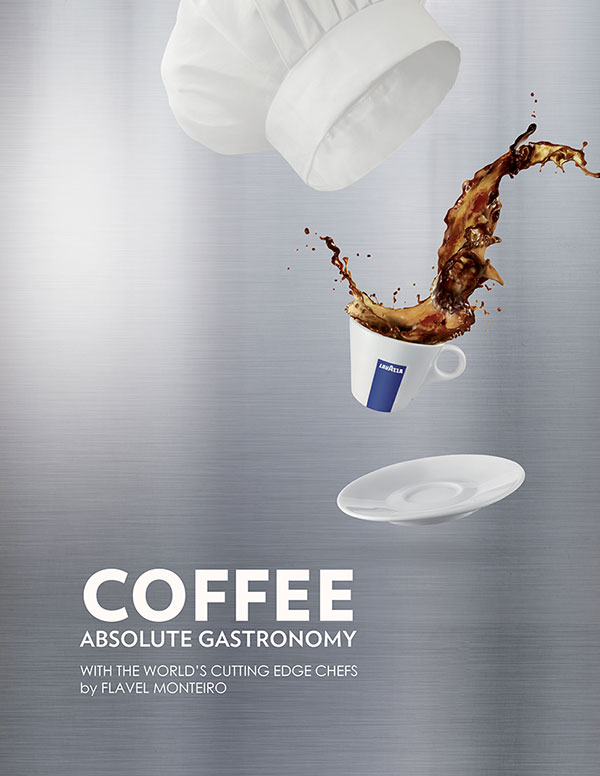 "A passion for the finer things in life – a desire to live within the greatest expression of pleasure – Lavazza coffee and gastronomy!
-Flavel Monteiro
WINNER OF THE 2019 INDEPENDENT PUBLISHERS WORLD BOOK AWARDS 
COFFEE ABSOLUTE GASTRONOMY is a celebration of coffee, fine cuisine and Lavazza. This 176 page book embarks on journeys from Curitiba in Brazil to Sydney, Australia. Along the way, encountering 35 Michelin stars, 6 continents, 23 countries and inspired by the genius of 40 of the world's cutting-edge culinary professionals.
As an ingredient, coffee is highlighted in each of the 70 recipes, some plates are specially created with Lavazza coffee beans, while others feature either ground coffee, an espresso shot, coffee infused in oil or a coffee rub to complement and highlight the ingredients in each dish, each of you brilliant and outstanding chefs have brought out the best of your culinary prowess while working with coffee as an ingredient – A culinary homage to coffee."
Baron Wolman starts the book with an ode to coffee. The First Words from the very best of France and La Liste's Culinary Best – Guy SAVOY, and the introduction by Ferran and Albert Adrià.
The chefs:
Heinz Beck, Annie Féolde, Paco Pérez, Vineet Bhatia, Yoshihiro Narisawa, Onno Kokmeijer, Arjan Speelman, Konstantin Filippou, David Toutain, Silvia Baracchi, Sam Aisbett, Mikael Svensson, Filip Langhoff, Alfredo Russo, Manoella Buffara, Grant MacPherson, Reif Othman, Teresa Cutter, Joe Barza, Paco Morales, Uroš Štefelin, Konstantin Ivlev, Balazs Enzsol, Constant Cheung, Colin Clague, Daniel Negreira, Veronica Canha-Hibbert, James Knight-Pacheco, Ilias Kokoroskos, Francesco Guarracino, Gianluca Renzi, Elizabeth Stevenson-Hocks, Gaël Claviere, Francesco Acquaviva, James Oakley, Francesco Nunziata, Simone Cantafio, José Luis Vicente Gómez, Carmine Amarante and sommelier Sarah Belanger.
COFFEE ABSOLUTE GASTRONOMY is not a commercial book, it's a very personal labour of love and friendship.
To get a copy, fill in the below form. Shipping charges apply.
Order Your Copy Now